Competitive edge and core strengths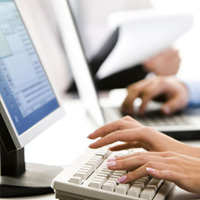 We believe in building a relationship, which is long – lasting and based on trust. We are having a very good network of our contacts , which help us in finding the right candidates. Client organizations today realize that human expertise is critical for the success of any enterprise.
Our clients partner with us for strategic and comprehensive solutions in locating talent, not merely to cut costs, but to gain a competitive edge and focus on core strengths. We pride ourselves in providing the best-qualified personnel available.
We feel your business success or professional opportunities is our responsibility. From improving your collections, answering the phones, from hiring clerical to senior management staff, from Data Entry Clerks to CFOs. We are here to help you succeed! Our mission is to meet and exceed the needs of our clients by offering a one-stop staffing facility. We provide quality, cost-effective support to meet your staffing needs. Our accounting and finance professionals capabilities extend far beyond the preparation of financial statements.. Our commitment to our customers is what separates us from our competition.
As it is a fast –paced market now, your company needs to concentrate on the type of business you operate. Thus, you can transfer your staff requirements to a company like ours, as we provide a top-notch workforce for your organization.