Home
»
Services
»
Washroom & Sanitary Cleaning
Environmentally friendly program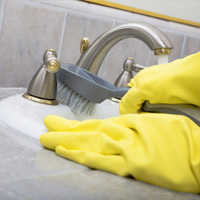 Dedicated and comprehensive account management with a full range of specialist cleaning services IND COMM specialist Cleaning division, combines a deep understanding of the cleaning industry with a total commitment to client satisfaction. We provide total service management for our customers.
We offer a comprehensive range of products and services to enhance your washroom environment and meet the needs of your clients, visitors and employees.

We are dedicated to creating and maintaining washroom environments that are not onlyclean and hygienic but also safe, pleasant and welcoming.
With our specialist cleaning equipment's and chemicals we make sure we cover every area that everyday cleaners can't reach, including cleaning of wall mounted porcelain or stainless steel urinals, standard urinal bays, WC's, basins and shower cubicles. This process is also extended to other areas of the washroom including basin, shower cubicles and WC's that are prone to odours.
We follow
Complete maintenance
Flexible service arrangements to suit your needs
You can be sure a thorough washroom service has been completed
No need for callbacks
No need to phone us for paperwork
Nothing is accidentally missed
It all adds up to peace of mind for you
Our full and integrated range of washroom services have been designed to complement any commercial or industrial washroom with high quality products, service and systems.
Features
Environmentally friendly program
Cleans both vertical and horizontal surfaces easily
Removes deeply encrusted dirt and bacteria
Gentle on fragile items
Kills mould and mildew
Sanitizes hard to reach areas including around taps and tight corners
Unique dry steam cleaning system